about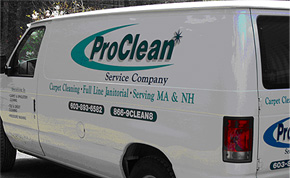 PROCLEAN SERVICE COMPANY OVERVIEW:
Over 20 Years Experience
State of the Art Equipment - Leading Edge Technology which provides optimum cleaning performance
Trained, Experienced and Professional Technicians
High Quality Services offered at Competitive Pricing
Process utilized is recommended by all major carpet and upholstery manufacturers
ProClean Service Company incorporates additional process steps for enhanced dirt and allergen removal
ProClean Service Companyis a member of the Better Business Bureau, IICRC and the Salem Chamber of Commerce
ProClean Service Company
is a privately owned company and is not associated with any franchise or distribution corporation. This allows us to purchase the best equipment and supplies from the most desirable vendors and not be obligated to a single supplier. Our main focus is on Customer Satisfaction and Quality Service provided at Optimized Pricing. We are fully insured and bonded.
ProClean Service Company
is a full service cleaning company that has over 20 years of experience and continues to set the standards of excellence in the cleaning industry by enhancing our capabilities to fill the needs of our customers. We constantly review our customer's requirements and based on this evaluation, procure equipment and materials to perform the best job possible. Year after year we continue to invest in new services to be a true one stop cleaning company to our present and future customers. We have a trained, professional and dedicated staff. We compensate our staff above the industry average which eliminates the industries biggest problem, employee turnover. Call ProClean today to find out how we can help you with your cleaning requirements.