Coronavirus Disinfecting Service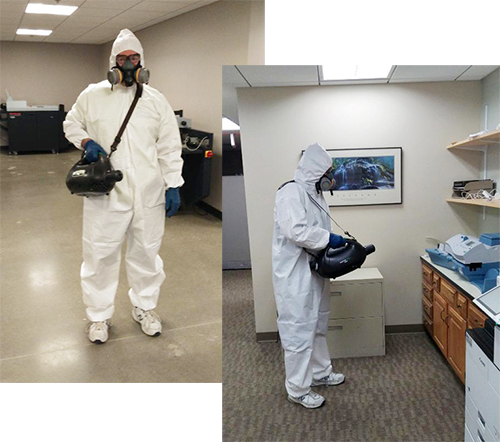 ProClean Service Company would like to provide information about our enhanced medical grade disinfecting service we can provide to your commercial facility.  This service is based on the current Coronavirus epidemic we are experiencing.
PROCLEAN SERVICE COMPANY has greatly enhanced our disinfecting capabilities which will completely sterilize full areas within your facility from the Covid-19 virus. We have incorporated state-of-the-art fogging devices and have acquired medical grade disinfectant used in hospitals, surgical rooms and food preparation areas etc... With this added disinfectant capability, we can kill over 140 pathogens a few of these are CORONAVIRUS, HEPATITIS B\C, HIV, INFLUEZA, BOVINE, NORAVIRUS, AVIAN FLU, STAPHYLOCOCCUS and provide an enhanced level of sterilization for you, your staff and your customers.
This process kills air born germs and germs/viruses on hard surfaces including, but not restricted to, light switches, chairs, tables, desks, counters, refrigerators, cabinets, flooring, touch areas, doors and door handles and railings. Once dry (in under an hour) the area is totally safe for your staff and customers.
In the cafeterias before fogging we ask that you remove all utensils, coffee pots, paper cups, sugar, cream, paper towels, etc. In office areas we ask people to remove paperwork so we can do thorough disinfecting on surfaces.  
If you would like to get a free estimate or schedule a total decontamination of your facility, please contact me.  We can do partial fogging of high traffic areas such as Cafeterias, Bathrooms, Lobbies, common areas and conference rooms. We look forward to discussing this important service offering with you. Please contact us at 978-807-9084 or [email protected].